Senta
Senta is a sweet, good-natured girl. She was rescued from the shelter after being turned in by her previous owners. Although, with her wonderful personality and striking looks, it's hard to understand how anyone would give her up. She was adopted by a very nice lady who previously adopted a German Shepherd mix from our group. Now Senta has an adopted brother to play with, and a very caring adopted mother to care for her.
Zoe

Zoe was one of six puppies we rescued from starvation from a ranch in Bastrop County. She was the 'runt' of the litter, and had a few more challenges than the other puppies. She was so tiny, and it took her a while to recover from her ordeal. Zoe recovered beautifully to become a sweet, loving little puppy. She can't get enough of being held and loved, and she is getting plenty of attention in her new home. She has a built-in doggy pal, Duke, and loves to go in and out of the cat door.
MoJo

MoJo was the biggest of the Bastrop Bunch of puppies, so he needed a special home - and he got one. His family wanted a dog who would be BIG, and MoJo definitely fits the bill. He is ready to romp and play with his two girls, and be loved on by the whole family. He even likes the cat!
Rain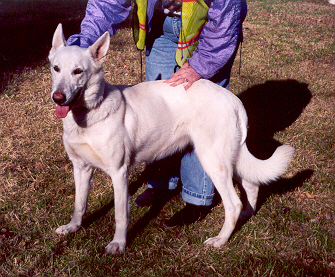 Rain was destined to be destroyed at the shelter when we swooped in to rescue her. Before we could even have her spayed and get her out, though, we got a call from a lady who wanted to adopt her. Rain went directly from the shelter to her new home, and is now enjoying the good life with the lady's Jack Russell Terrier.
Loki
Loki was a very popular little girl, and received a lot of interest when she came to us. She was adopted into the perfect home for her with a very attentive, nice guy who dotes on her, and gives her plenty of plate time and affection. He even brings her to visit us at our adoption days.
Emma
Emma was a scared, sick little puppy when she came to us from the shelter. Over the next few days, her cold cleared up, and we discovered her love of other dogs. She loves to romp and play, and be cuddled by her people. She went to live with a fireman and his wife, and her new friend, a little black Pomeranian named Cole.